Vancouver: GRANVILLE ISLAND 9 - 5pm, Mon - Sun
North Van: LONSDALE QUAY 10 - 6pm, Mon - Sun
Los Angeles: ORIGINAL FARMERS MARKET 10 - 6PM, Mon - Sun

FIND US IN YOUR GROCERY STORE
WHERE DID ALL THE GOOD PICKLES GO?

We're two guys from Vancouver (Chris and Scott) who couldn't find a good tasting pickle on the West Coast. So we decided to start a pickle company to always have our own supply of good pickles. And where do you find the best tasting pickles? That's easy, New York. Just ask Scott Kaylin a born and bred New Yorker who says "It's 120 years of pickle making history rolled into one great pickle." But it's a lot of things mixed together really like the best ingredients, hard work, and a desire to stop at nothing until you get the perfect taste. We serve Jalapeño, Kosher Dill, Half Sour, Horseradish, Mustard, Spicy Dill and Full Sour pickles. We also have sweet pickles like Honey Mustard and Bread and Butter. And they're all served deli-style right out of pails, like old school Lower East Side New York. Serve them cold with a West Coast IPA, with charcuterie on a beach watching Floatplanes land, or simply leaning against your fridge.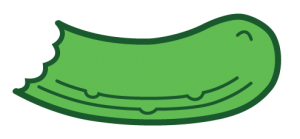 I WANT A GREAT PICKLE

For inquiries, questions, or to join our mailing list fill out the form below.
We do not offer shipping. You can purchase our pickles at our Granville Island Market or Lonsdale Quay locations in Vancouver and at a number of grocery stores, select restaurants and breweries in BC and Alberta. Or from our Los Angeles location at The Original Farmers Market. For the full list click here.
FREQUENTLY ASKED QUESTIONS
Q. Where can I get Kaylin & Hobbs Pickles?
A. Click here for a full list.
Q. Do you ship?
A. Unfortunately not at this time, our pickles only last up to 30 hours out of the fridge so shipping can be quite expensive. We do however sell a Pickle Traveler at our retail locations, it's a container designed for checked luggage if you're flying.
Q. How long do your pickles last?
A. Three to four months in the fridge for our vinegar pickles, the fermented pickles (Half Sour and Full Sour) do last longer, they get softer but more sour!
Q. What is with all the plastic?
A. Reducing our carbon footprint is important to us, which is why we designed the Pickle Growler, it's an Italian lock-lid jar with engraved pickle on it, just bring it back for a fill any time you need pickles. We also package all of our pickles in PP containers, they are Foodsafe and reusable.
Q. Should I keep them in the brine?
A. Keeping them submerged in the brine extends shelf life. If after eating a few you find the brine getting low, cut the pickles in half and stuff them back in the brine to keep them fresh.
Q. Which grocery stores are you in?
A.  Click here for a full list.
Q. Do you have fermented pickles?
A. We have Full Sour and Half Sour pickles they are lacto-fermented, however you can only purchase these at our Granville Island Market location and they are not available for wholesale or grocery.
Q. Are they gluten free?
A. Yes.
Q. Any sugar in your pickles?
A. Yes in our sweet pickles.
Q. Can your pickles go across the border to the US?
A. They go all the time. They're not considered fresh fruit or vegetables so pickles are fine to cross the border.